Vintage Sketches and Gadgets, My Desktop Companions and Curious Consumer Products
I've been cleaning up my place a bit, just a "weetow" bit. I was looking for some important papers for employment. Our company has been "acquired" or "bought into" (I'm not quite sure what's the right term at the moment) by a much larger company. This large company has been looking into the business our company is in and saw the potential for much "bigger" things and so they took interest in our company. Anyway, since the announcement of the "acquisition," my co-workers and I had to go through the process of "applying" to the new company. Technically, we're not yet employed by the new company, at least not yet. We're on a sort of a 30-day trial period and as of yesterday we're on our 15th day. I'm quite uncertain about what's in store for everyone. Personally, I think it's just the formality of making the move to the new company as smooth as possible. I just try to be positive about the whole thing. I don't have much use for negativity at the moment.
*****

Anyway, while looking for those important papers, i found some "vintage" sketches of my friend
Arnold
. Some doodles which, for the ordinary person, are caricature masterpieces. At least that's how I feel since I'm really no good with caricatures. I can draw but not like Arnold does. 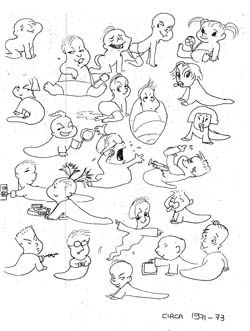 *****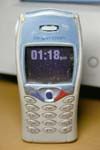 Click on image to see larger picture
My mobile phone is ageing. My
Ericsson T68
has been in service for a little over three years already. Its firmware has been upgraded to the
Sony Ericsson T68i
for added functionality. I've changed its housing a couple of times already. The first one I purchased was an original Sony Ericsson replacement housing from
Semicon
, since they were at that time the only certified Sony Ericsson Service Center. It was also there that I had the phone's software upgraded. After some time, the phone's original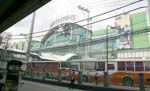 Click on image to see larger picture
battery wasn't working as it should anymore and I bought a spare battery at Games & Gadgets. I eventually got tired of the first replacement housing I got so I had it replaced for a second time with an el cheapo version from
Metropolis Star Mall
(a mall which was built upon property which was formerly a public cemetery). It fit fine at first but the phone kind of lost it's functionality after a while since I wasn't getting any signal at all. So I had to return it and have it fixed. Apparently, the technician who worked on it didn't get the internal antenna aligned which was why the phone wasn't getting any signal. It eventually got fixed and it still works fine till now. In time the el cheapo housing got worn. The infrared (IR) lens got loose and fell. Dirt and dust particles were getting into the opening. I had to cover the hole with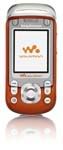 Click on image to see larger picture
transparent tape to prevent more dust and other stuff from getting inside the phone. I dropped the unit several times already but it's still functioning properly. It's quite amazing to think that this phone model was released around 2001 and still is significant today as when it came out. Probably one of the first to come out with a 101 x 80 pixel, 256-color screen . I use the built-in Infrared and Bluetooth connectivity for sending electronic business cards and synching my address book with my other vintage gadget which is my Palm Vx handheld which I will tell you about later. It sends and receives Multimedia Messages, surfs the net via GPRS and WAP 1.2.1. The one thing it probably does not have that most recent phone models have is polyphonic and MP3 ring tone support. Which I really don't mind having although I'm seriously thinking about retiring the T68 soon. I'll probably start a fund for the
Sony Ericsson W600i Walkman phone
.  :-)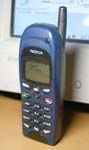 Click on image to see larger picture
I have another mobile phone which is way ancient. It's a
Nokia 6150
which was a workhorse in its heyday, with its big-ass phone memory and an Infrared interface, which you could use to send and receive data such as picture messages and business cards. I use it as my "other" phone. The wave that
Sun cellular
created with its
24/7 Call & Text service
caught me. The artificial need made it necessary for me to have another phone unit solely for that purpose. Switching to Sun Cellular's service was out of the question since there wasn't any guarantee that it was going to be there forever so I kept my old reliable Smart SIM just in case. And truly, Sun Cellular went bust when they increased their 24/7 rates and the unreliable service also did not help them at all. The Sun Cellular SIM I bought went DEAD (I'm thinking about asking the nearest customer service center about it but why should I even bother? All I'm getting is 24/7 no signal at all). Leaving my ancient Nokia 6150 utterly useless (well, not entirely since I currently use it as a paper weight). :-)
One of my other vintage devices is my
Palm Vx
handheld. I've had it for about as long as the Ericsson T68. It's essentially a computer which runs on the same capacity as the x286 or x386 computers I used when I was younger, but reduced to a size that could fit in your pocket. It functions mainly as an organizer, but like a computer, you could load programs in it to add to its functionality. Apart from the standard address book, calendar, memo and note pad, expense list and calculator, I also use it as an e-book reader. You could load as many electronic books in it as long as its built-in memory (which is a whopping 8 megabytes!) can accommodate them. I've loaded games like
Tetris
and
Text Twist
which I play to while away time. I use it to store SMS messages from my Ericsson T68 via Infrared so I won't have to delete any messages. I use it to read, compose and edit Word documents, spreadsheets and simple PowerPoint presentations. I've acquired a modem for it and through any available phone line and an internet service account, I've used it to connect to the Internet to send and receive e-mails, view my
Friendster.com account
and chat with my friends via
Yahoo Messenger
and
MSN Messenger
. A few years back, you'd be the coolest person if you had a device like the Palm Vx. But its monochrome screen and green backlight is way outdated especially now that even entry-level mobile phones have bright colored screens. And 8 megabytes of memory don't really cut it anymore.
Click on thumbnails to see lager image
I've actually tried to sell this thing via
Friendster.com's Pusit Classifieds
,
Bidshot.com
and my
Multiply.com
page at a very affordable price. I got several interested souls who queried but didn't really follow through. Most of them were asking if it played MP3s and had a colored screen and didn't reply when I told them it didn't. I guess I'm getting to keep this baby for good.
Click on image to see larger picture
The handheld I currently use is a
Palm m515
which I borrowed from my sister. I figure she won't have much use for it since she acquired a laptop computer. It pretty much does what my Palm Vx does but a lot faster, since it has a much more powerful processor and double the memory at 16 megabytes. It also has a Secure Digital (SD) memory card expansion slot on top for additional data storage. I also use it to store pictures which fairly look attractive on its bright colored screen though not as pretty when viewed through the high-resolution screens of the latest PDAs (which means 'Personal Digital Assistant' and not making out in public, you naughty you). :-)
With the amalgam of high-tech devices abound, I'm not quite sure If I'd want an all-in-one device. The advantage of one would be having just one device to lug around which does practically everything except maybe heat your baon or give you a massage. The downside is that if your "one" device conks out, you're left with nothing. On the other hand, having several devices which does specific tasks, like a phone for communication and a PDA for information management, would have you updating information on every device and making sure that information synchs with all your other devices. Madness. Otherwise, you could always revert to the old reliable pen and paper. Never fails (Unless you lose that piece of paper when you wrote that note or number on).  :-)
*****

I'd like to introduce you to my growing number of desktop friends who keep me constant company every single work day.
L to R: Meet the Darth Vader, Cyber Ninja Samurai (I really dont know what it's called), The Hulk, Tokugawa Grandpa (in between the Hulk's legs, a gift from Chikki), Captain Jean Luc Picard and The Image Catcher (which mimics anyone's face at any time someone sticks their face at the back of the frame. A Christmas gift from my sister). Click to see larger image.
I got Mr. Vader FREE with a Jollibee Kiddie Meal. It has a pen underneath it that when you pull out, makes Mr. Vader's light saber glow. Click to see larger image.
*****
Nestlé
has been feeding me breakfast for better half of the past week. They've been handing out packets of
Nestlé NesVita Cereal Drink
at the MRT stations every morning.
Gardenia
bread should also do the same thing, giving out individually-packed toast.
CDO
should give away pre-cooked sausages or
longganiza
at the MRT stations as well
para
complete breakfast! :)
Puts fiber in your diet. I just drink it because its FREE! :-) Click to see larger image.
Got this one from
Ministop
.
Nestlé Ice Cream
Star Wars Episode III Revenge of the Sith Wonder Cup.
Comes with a FREE collectible figurine. I got a C3PO pencil topper!
Did a bit of toiletry shopping. I ran out of
my favorite soap
already but First Aid, that health & beauty store in
Greenbelt
didnt have it. The didn't have
Head & Shoulders
either. So I was forced to get a different shampoo. The
Palmolive Aromatherapy Shampoo and Conditioner
wasn't so bad. It smells good. And I got the
Dial Antibacterial Deodorant Soap Tropical Escape
variant 'cause it smelled a bit like my favorite soap. The
Bench/ Alcogel
was for the office since there is a shortage of
Green Cross Rubbing Alcohol
. And besides, alcogel smells way better. :-)
Kakikayan. Click to see larger image.
It never ceases to amaze me that people never run out of ideas on making new products to sell.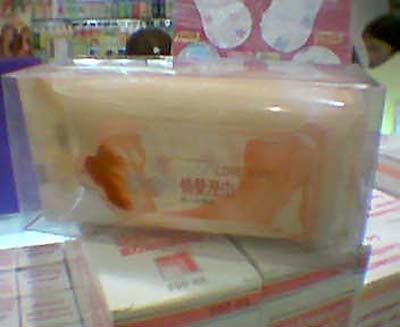 Seen at First Aid Health and Beauty Store in Greenbelt.

Between Love Wipe

in packs of three. Packaging depicts a naked man and woman. Looks like a sanitary napkin in pillow packs. P32. 25. Directions: Use your imagination.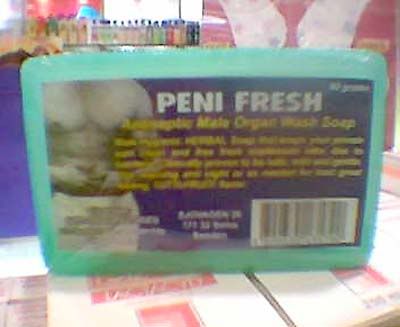 Also seen at First Aid Health and Beauty Store in Greenbelt.

Peni Fresh

Antiseptic Male Organ Wash Soap. Pretty much self-explanatory. P55.00.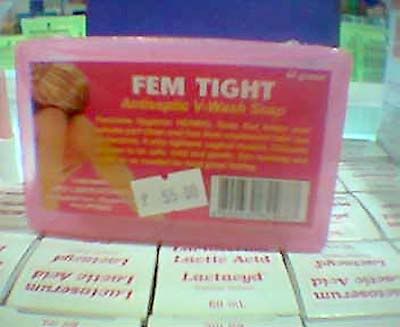 Also seen at First Aid Health and Beauty Store in Greenbelt.

Fem Tight

Antiseptic V-Wash Soap. P55.00. I wonder why they sort of sanitized the copy. Is it improper to include words like "Vagina" or "Vaginal" on commercial products? They weren't very subtle on the other product.